VSS UNITY Returns with Three on Board
Hello again and welcome to my blog. After reading my latest Mission Update from my friends at Virgin Galactic I am now more excited and absolutely ready to finally realize my life long dream of going to space! As the test flights continue please return to check out further updates from the Astronaut Office at Virgin and share in this historic start of space tourism.
Dear all,
For the second time in ten weeks, we've reached space!
Your fellow Future Astronauts cheered on from the flight line this morning, as VSS Unity successfully completed her fifth supersonic rocket powered test flight. Chief Pilot Dave Mackay was in the cockpit with pilot Mike 'Sooch' Masucci for the pair's second powered, but first space flight, together. They were joined by a certain someone who many of you have met over the years, our Chief Astronaut Instructor, Beth Moses. She flew in the cabin as the third crew member, acting as a Spaceflight Specialist, in a first, live evaluation of cabin dynamics.
This was an envelope expanding flight, as the world record-holding hybrid rocket motor propelled the spaceship at Mac 3.04 to an apogee of 295,007ft, which was higher and faster than the previous space flight. But this was also a seminal point in the flight test program, as we start to focus on the cabin environment and ensure the experience not only meets, but exceeds your expectations.
During the several minutes of weightlessness, Beth unbuckled from her seat and floated freely to complete a number of cabin evaluation test points. Previously these were collected via sensors, but live testing of the physical elements of the cabin interior is fundamental to confirming a safe and enjoyable experience. Beth's reaction on landing suggests that you are all going to have the most fantastic time up there!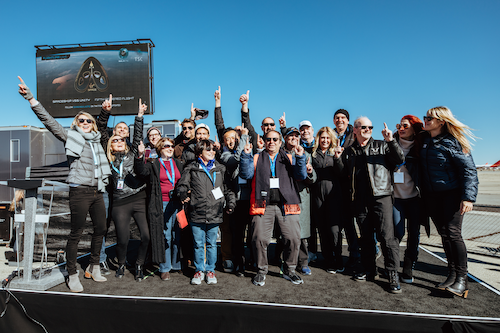 This space flight means Dave and 'Sooch' become the 569th and 570th humans in space and Beth the 571st, as well as the first woman to fly on board a commercial spaceship.
Today's flight marked a few other interesting firsts: the flight was the first time that a non-pilot flew on board a commercial spaceship to space, and it was the first time that a crew member floated freely without restraints in weightlessness in space on board a commercial spaceship; it was the first time that three people flew to space on a commercial spaceship, and Dave Mackay became the first Scottish-born astronaut (Brian Binnie, who was raised in Scotland, flew to space in 2004).  We couldn't let that particular moment pass without some celebration so Dave led his crew of newly qualified astronauts from VSS Unity accompanied by a kilted piper.
Richard summed up the day neatly and we'll sign of with his thoughts, which we know you will share:
"Having Beth fly in the cabin today, starting to ensure our customer journey is as flawless as the spaceship itself, brings a huge sense of anticipation and excitement to all of us here who are looking forward to experiencing space for ourselves."
Best wishes,
The Astronaut Office
Don't forget to come back for more updates.